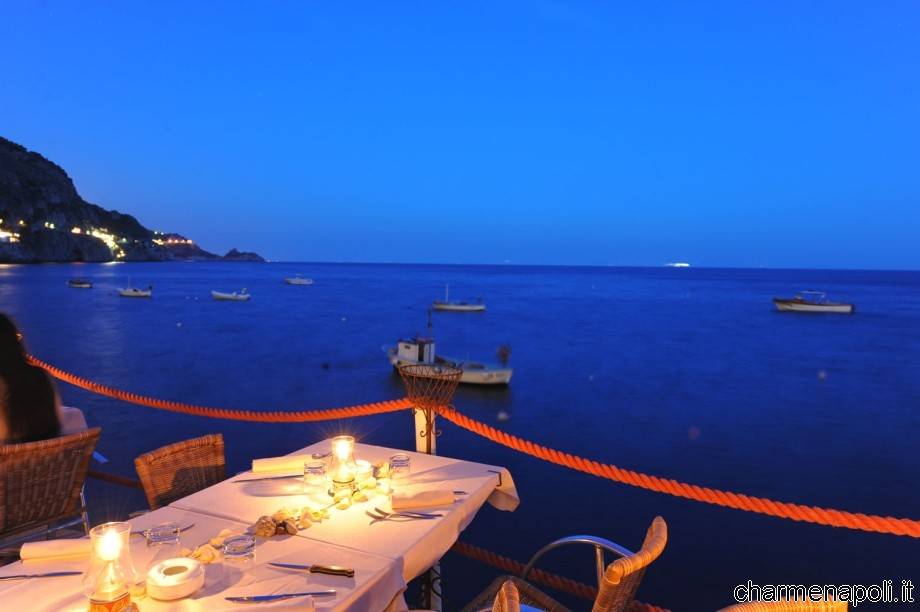 "Imagine a terrace built into the rocks above the glittering cove, of the Amalfi Coast. Let not forget to mention that the food is mesmerizing". Not a bad card, do not you? Well writes thechive.com, American portal which classified "Il Pirata" among the ten best restaurants in the world for its breathtaking views, placing it next to excellence from Paris, Hong Kong, New York, and from Canada, California, Greece and Tanzania!
The source of good food, able to seduce even the United States of America, is embedded in the rock of the Amalfi Coast. In Praiano a Mare, to be precise. Fabulous place, a stone's throw from the waves, where you have the opportunity to enjoy classic Mediterranean cuisine, and feel at home. The flow rates in the "den" of the Pirate, are prepared respecting simple recipes, but with the highest quality ingredients, because savor a good meal also means appreciating the flavors and even accompany them with an excellent wine.
Yes, because the cellar of the suggestive "terrace-restaurant" in Praiano is stocked. And it's always ready to satisfy even the most discerning palates. The lounge bar, then, is a small jewel in the crown. A real gem that leaves everyone speechless. A small and cave walls with rock lying on the beautiful sea are, in fact, the ideal place to relax, have a drink and listen to good music maybe admiring a landscape of a thousand and one night, literally overlooking the clear blue sea that washes the coast of the gods.
The fellowship is the dish of the house: the "Pirate" nothing is left to chance and the customer is pampered from the first to the last bite. Because each course takes on the flavor of the most exciting adventures.
Restaurant Il Pirata
Via Terramare, Praiano (Salerno)
tel: +39 089 874377
info@ristoranteilpirata.net
www.ristoranteilpirata.net
[charme-gallery]