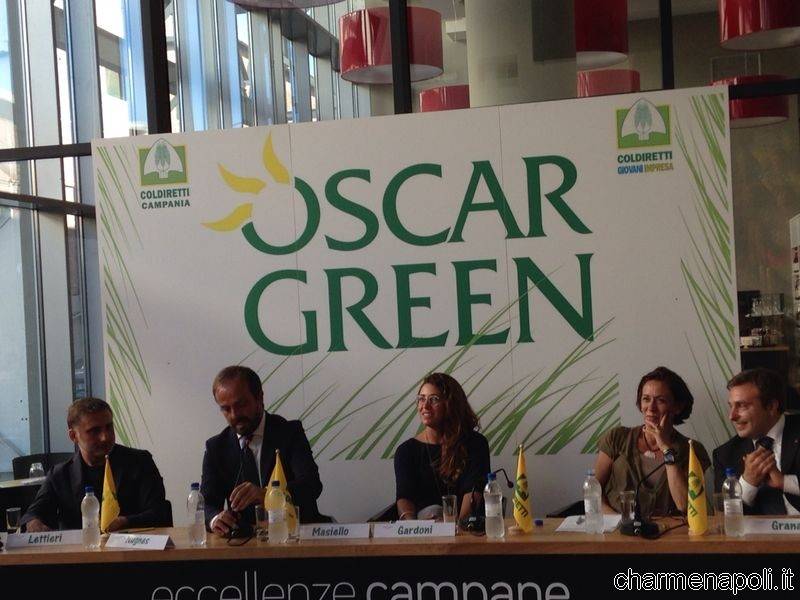 He crossed the line eighth edition of the Oscar Green prize, promoted by Coldiretti Giovane Impresa, with the patronage of the President of the Italian Republic, which recognizes the best business projects competitive, sustainable and innovative, targeted at enhancing the land resources, strengthen the bond of origin, favoring the development of an agricultural sector all Italian.
Are you on the first fifty candidates, the award-winning companies. Companies modern and revolutionary, but mostly run by young people and products that make a business of agriculture, contributing significantly to the phenomenon that sees the industry as the only counter to record increases in sales and employment.
Six companies, it is appropriate to say, from … Oscar, who have been accorded the coveted title in the main hall of the pole "Eccellenze Campane" in via Brin (Naples) during an event attended by, among others: the deputy mayor of the City of Naples Tommaso Sodano, the president of Coldiretti Campania Gennaro Masiello, the regional Councillor for Agriculture Daniela Nugnes, the president of the international group Adler Paolo Scudieri (creator of "Eccellenze Campane"), the Director of coldiretti Campania Simone Ciampoli, the national delegate Coldiretti Giovane Impresa Maria Letizia Gardoni and the regional delegate Coldiretti Giovane Impresa Campania Gennaro Granata.
Among the categories that have each chosen their winner, stands one reserved for "paths of development of Made in Italy"; one called "innovation = technology at the service of agriculture" and other sections centered on the marriage between business and sustainability. Special recognition was also given to the National Institute for the treatment of cancer "Fondazione G. Pascale" of Naples, who was awarded a special mention "friendly country" as a result of a Memorandum of Understanding signed with the Association Agrimercato and Coldiretti to promote the prevention of cancer through healthy eating and a healthy lifestyle.
During the award ceremony, it has been signed an important Memorandum of Understanding between the Fondazione Campagna Amica Coldiretti and "Eccellence Campania" for a system of actions aimed at the development and promotion of Italian products and quality bells and companies belonging to Coldiretti Campania.
The aim of the initiative, on the other hand, is aimed specifically at enhancing the companies committed to building a whole Italian agricultural sector, which refer to the product with 100% Italian, innovating its business to meet the needs of consumers and the environment and be more competitive on the market. The Oscar-winning Green together with the Memorandum of Understanding constitutes a recognition of the creativity of the producers, the sensitivity rediscovery for consumers and innovative ways of linking those who create and those who consume as part of an agriculture that Coldiretti is regenerated and rewards.
[charme-gallery]