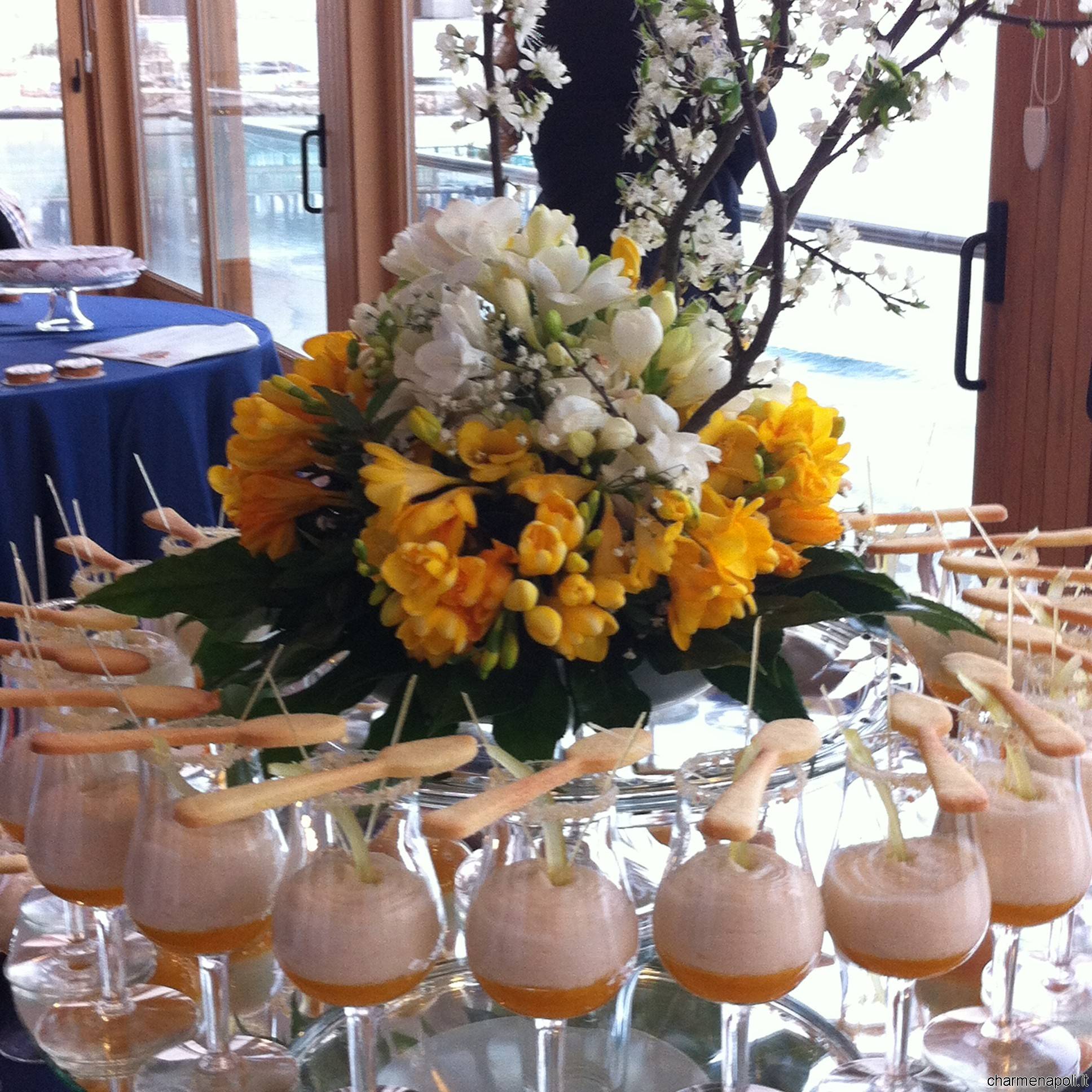 The elite pastry bell together in the enchanting setting of Villa Caracciolo in Naples. There, in the halls overlooking the amazing Gulf of Posillipo, just a few steps from the impressive Palazzo Donn' Anna. The place where they met the ten best pastry chefs made ​​in Partenope.
Everything is done for an extraordinary event: the presentation of the typical Easter cakes between tradition and innovation, with the participation of Molino Caputo.
The historic company, the custodian of the ancient processing methods of the white, gave his first quality flour to pastry chefs who have created amazing reinterpretations of typical dessert of the sacred occasion.
Space then oestrus culinary Antonella Rossi, chef and owner of the restaurant Napoli Mia , who proposed  the irresistible Sfera di pastiera with almonds and orange, also an original reinterpretation of a parfait pastiera, covered on the outside with balls of durum wheat which take the form of a tasty biscuit.
[charme-gallery]
Everything starting from the tradition, but with the right attention to a touch of innovation that even in the kitchen never hurts, as demonstrated by the art of ancient pastry Osteria Nonna Rosa, who presented an interesting creme brûlée pastiera.
Still, in the foreground the culinary creations of the master Alfonso Pepe who has conquered the taste buds of all the lucky diners with its unparalleled Easter dove, won the first prize in the Gambero Rosso proposal as well as in his classical training, with variations made lemon and chocolate.
[charme-gallery]
And how could we not mention the taste of tradition brought to the table by Stella Ricci? The teacher pastry Montesarchio (Benevento) has decided to revive the oldest Easter cakes of Valle Caudina like the classic "Pizzi and Palummo" and especially the "Tarallo Scaurato", a symbol of aggregation domestic and conviviality that in 2007 he was included among the traditional food products of the Terra Felix.
All accompanied by original sculptures with culinary pastry and eggs that have attracted the attention of visitors who have enjoyed delighted, it's appropriate to say, with the best of gourmet made ​​in Campania, beautiful to see and exceptionally good to eat!