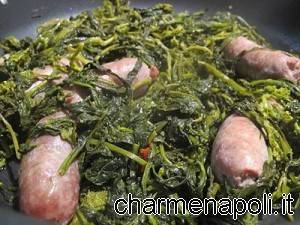 A simple but delicious dish in which the flavour of seasoned pork is accentuated by the slightly bitter taste of the broccoli rabe, a variety of brassica typical to southern Italywhose leaves and flowering buds are called friarielli because they are cooked in a little olive oil with garlic and chilli peppers. Succulent local sausages and friarelli: the perfect match for and a typical Neapolitan dish suitable for every occasion from Sunday lunch with the family to a stand-up meal with friends; in the latter case, the smaller, bite size sausages should be used.
Ingredients (for 4 persons)
8 pork sausages
4 bunches of friarielli
2 cloves of garlic
chilli peppers to taste
salt,
olive oil.
Remove the tender leaves and buds from the tougher stalks and wash in cold water. In the meantime, fry the garlic in a little olive oil for a few seconds in a large pan, then add the friarielli and cover. Cook on a high heat for a few minutes, then remove the lid, lower heat, add some chilli pepper, salt to taste and a little water if necessary. Cook for about 10 minutes, stirring occasionally. This is the finest accompaniment for sausages made with chopped pork and cooked in a separate pan with a little white wine and pierced with the prongs of a fork. Leave the heat on high initially, then add a little oil and garlic and continue cooking until golden brown Add to the pan with the friarielli for a few minutes so that the two flavours blend. Serve the sausages on a bed of friarielli in the centre of a serving dish