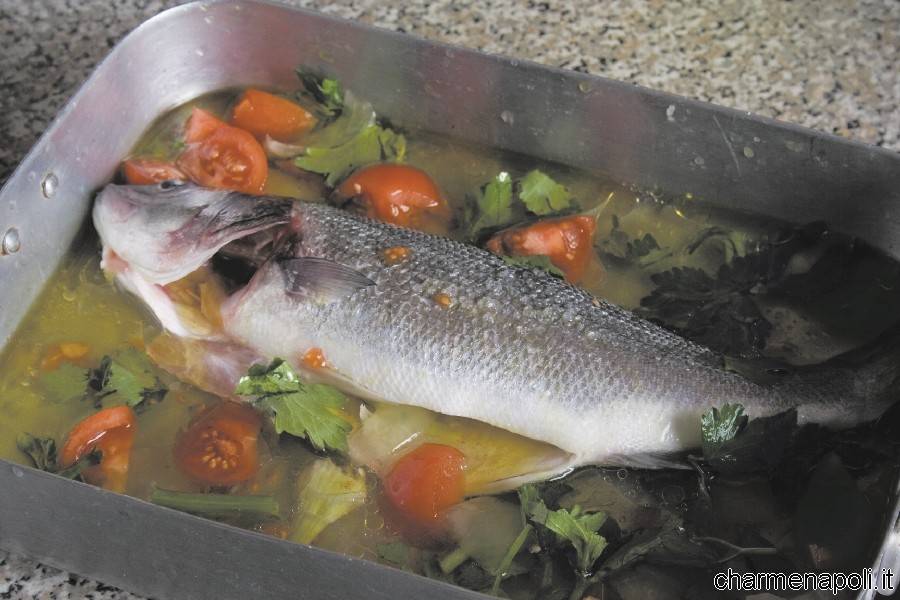 Mediterranean sea bass is prized, under a variety  of different regional names, all over Italy where its firm white flesh and exquisite flavour can be enjoyed grilled, steamed or, above all "all'acqua pazza". Literally meaning "crazy water", this simple yet tasty recipe involves cooking the fish in a pan either on the hob or in the oven, letting the natural flavour of fresh fish blend with a little garlic, cherry tomatoes, some red chilli and a handful of fresh chopped parsley  to be added just before the dish is served. Invented by the fishermen from the isle of Ponza, the recipe made its way to Capri where it became a fashionable dish in the 1950s and 1960s. Lovers of shellfish might like to try adding mussels, clams, olives, capers and anchovies to the  sauce and cooking for a few minutes before placing the sea bass in the  pan.[charme-gallery]
Ingredients for 4 persons:
4 medium size sea bass
mature cherry tomatoes
3 cloves of garlic
3/4 litre of water
3-4 tablespoons of olive oil
salt, oregano and parsley to taste.
Preparation:
Descale, gut and clean the fish, then put a little parsley and minced garlic in the cavity. Put oil into the pan and begin to fry the garlic. Add the cherry tomatoes, salt and oregano and continue frying, then add the water. When the water boils, place the fish in the pan and cook gently for 20 minutes. Filet the cooked fish, add some of the sauce, a generous drizzle of olive oil, some fresh chopped parsley and serve with a bruschetta.