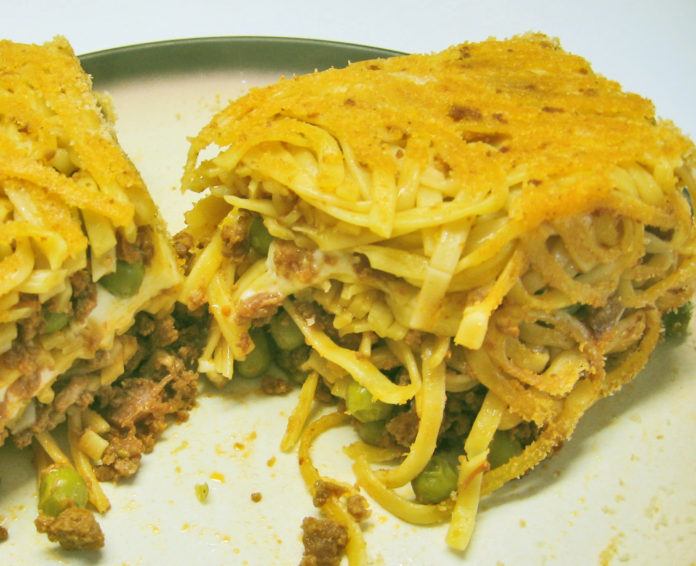 The recipes of traditional Neapolitan cuisine.
Do not skimp quantities in the preparation of this wonderful dish of Neapolitan cuisine. The noodles, although the egg, have a high digestibility, and even if they filled with dressing, you will not ever be enough. It would eat to the bitter end.
Ingredients for 4 people: 400 grams of noodles, 300 grams of minced meat, 200 grams Neapolitan salami, 200 gr g spring peas, 600 ml of sauce, 1 shallot, g 150 g grated Parmesan cheese, olive oil, salt
Preparation
Chop the shallot and fry it in a pan with oil. When it is browned, add the spring peas and cook for 30 minutes, covering with a lid. To get peas softer, you could add a little 'of water or vegetable broth.
Meanwhile, in another pan fry the minced meat with a little oil.
While meat and peas are cooking, just before this time, also put the noodles in cooking, salt. Al dente, drain and pour into the pan of meat ready, add the peas and the sauce preheated, then mix all the ingredients. Cut the Neapolitan salami in small strips and add to it all together even the grated parmesan.
The noodles seasoned so do them in a baking pan (greased on the sides and bottom) and bake at 200 ° C for 30 minutes. If you use the grill the last 5 minutes, will also make the crust surface.
Most common variant
For the noodles even more tasty and complete, add the tomato puree (200 g) to the sauce, cooking it together with the chopped meat.