And maybe it will be the wind of the sea, or maybe it will be the saltiness or the volcanic earth, but here the fennel has another flavor.
Fennel gratin is the historic recipe (recipe seasoned by the story that led to its preparation) that comes to us from our friend Gian Luca da Procida. This time it is one of the most famous vegetables, the fennel. It was prepared because it was in search of a healthy, fresh and tasty dish at the same time. But no more talk, let's see what happened and how it is cooked in Procida. We receive and publish tel quel.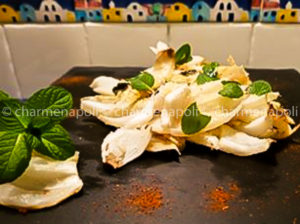 "Living with a woman who is very, very careful about fitness and therefore healthy eating is not easy. And it is not easy to defend yourself against the accusations of preparing only and favorite dishes for the little daughter (in the family called Tricchi Tracco Benny ed). The need to maintain the perfect physical shape of the wife and a bet made with my personal friends (arriving in summer with an enviable abdominal turtle), was the spark to create something that was good and just as healthy and dietary. Well, yes, I wrote dietetics. I do not believe it myself. This recipe came to my mind thanks to the homage of a friend. Its the gift of one of the products of the "staggione" vegetable garden, it is truly incredible to believe in taste and nutritive properties.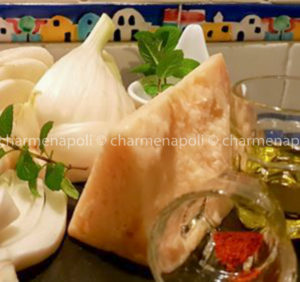 In fact the protagonist of this recipe is fennel, a precious vegetable with purifying and diuretic properties. Characterized by a strong crunchiness that goes very well with one of my favorite cheeses, that is Parmigiano Reggiano. And so, thanks to fennel, on a cold winter day I conquered the palate of my wife and my little plague. She, despite a first reluctance to taste the dish, then literally left me without dinner eating my portion. So I ate a sandwich in fashion (let's say little diet) and so I also decided to buy a baby turtle, but on the ground, however, and patience if I can not win the bet made with friends.
Preparation and ingredients for 4 people of Procida gratin fennel.
3 large fennel
100/120 gr of parmesan or grated Parmesan cheese
breadcrumbs to taste
half a cup of water
extra virgin olive oil
flakes of Parmigiano Reggiano or Parmesan cheese to taste
salt
black pepper to be ground
hot pepper or paprika
freshly picked mint leaves
Wash the fennel and cut with a knife into thin slices. In a bowl combine the grated freshly picked cheese and the breadcrumbs and mix. Preheat the oven (with the ventilated function) to 190/200 °. Using a non-stick baking pan (especially those made of lava stone, they are fine) place the fennels in a few layers. Sprinkle with grated cheese and breadcrumbs. Put some flakes of Parmesan or Parmesan cheese, a pinch of salt, pepper, paprika and paprika and freshly picked mint leaves. Add half a cup of water and a little oil. Bake in the oven for about 20 minutes, in which in the last 2 minutes, operate the grill. Serve warm by adding at the last moment more freshly picked leaves of fresh mint. You already smell the scent. I felt that scent too. But they did not leave my portion. They have eaten everything.
Enjoy your meal, #gianlucacostagliola #cuocodelladomenica #procida "
And if you liked this filet of Fennel gratin of Procida, then you might like it too at the link: http://www.charmenapoli.it/sapori/pane-e-pomodoro-procida-colurcio/
Our Facebook page with many recipes, but also with lots of news on the history, art, culture and entertainment of Naples and Campania is at this link: https://www.facebook.com/CharmeTuttoilbellodiNapoli/